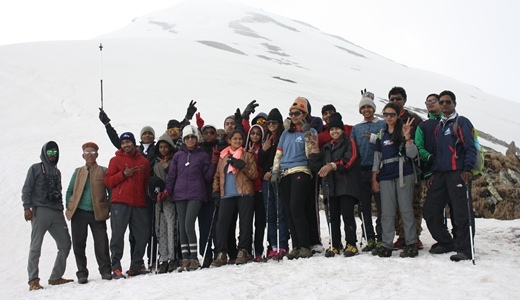 Bhonsala Adventure Foundation was established on 28 th January 1994 at Nashik by the Central Hindu Military Education Society to inculcate the spirit of adventure in the youth of the country. It is a premier Adventure training institute of Maharashtra. More and More youngsters are getting involved in this institute on a broad scale. The foundation conducts multifarious adventure activities of varying duration throughout the year.
Current year is our 28 th year in this field. We have trained more than 26000 students & 1700 corporate trainees. Major General Anant V. Natu PVSM, MVC (Retd) was initially the chief advisor and promoter of the foundation. Brigadier A. M. Warty, VSM (Retd.) was the first chairman of the foundation. Renowned Everest Climber Mr. Rushikesh Yadav is also a part of our team and is a member of the working committee of C.H.M.E. Society. First ever person civilian climbers from Maharashtra leading the team, he is associated with B.A.F. He is awarded Govt. of Maharashtra "Shiv Chatrapati Award" in 1998. He is also member of Fort Conservation Committee and Adventure Sport Committee of Govt. of Maharashtra. He guides us in all our endeavors. Mr. Shital Deshpande is the Guardian and Mr. Rushikesh Yadav is the chairman of the Bhonsala Adventure Foundation.
The foundation boasts of modern equipments required for carrying out adventure courses and has also planned to procure more advanced equipments for aero sports and water sports. The foundation also has also procured sports equipments from Indian Army's Adventure sport organization.
The hall mark our foundation is our skilled and trained instructors. The instructors have obtained training from renowned institutions as follows
Nehru Institute of mountaineering, Uttaranchal
Himalaya Mountaineering Institute, Darjeeling
Jawahar Institute of Mountaineering, J & K
National Institute of Mountaineering and Allied Sports, Arunachal Pradesh
Recently our team has attempted peak Deo Tibba (6001m) reached up to 5044m & also successfully climbed peak Unam (6112m) in Himachal Pradesh.
Our Aim
To inculcate the spirit of leadership and adventure in youth
To Promote and popularize outdoor adventure activities.
To develop basic character qualities and personality.
To introduce youth to the flora and fauna of our region.
To undertake activities for preservation of environmental balance.
To create a scientific approach towards adventure activities.
Bhonsala Adventure Foundation trained more than 21000 students and over 1700 corporate trainees. Currently we propose to conduct the following courses on your camp site
School & College Adventure Camps
One Day Adventure Activities
Different Adventure Sports Activities that we conduct are
LOCAL MANAGEMENT COMMITTEE

| | |
| --- | --- |
| Designation | Name |
| Gaurdian | Shri.Shital Deshpande |
| Chairman | Shri Rushikesh Yadav |
| Member | Shri Dr.Rajendra Nehete |
| Member | Miss. Anuradha Joshi |
| Member | Shri. Vijayrao Aghav |
| H.O.D | Shri.Santosh Jagtap |
| Instructor Representative | Shri. Santosh Vable |