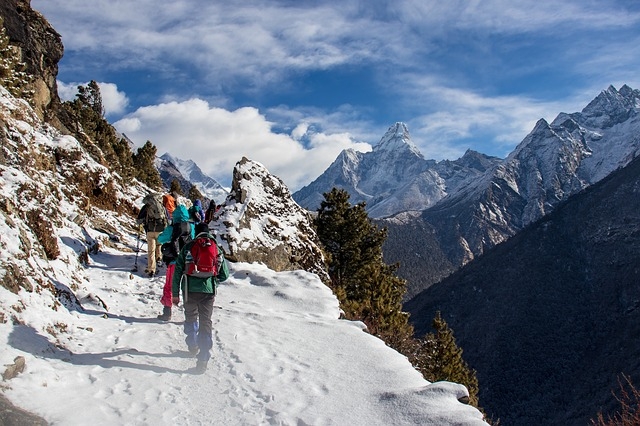 Kedarkhantha Trek, Uttarakhand.
20th Jan to 30th Jan 2023(10 nights /11 days)
Day 1: Departure from Nashik
Day 2: Arrival at New Delhi / Nizamuddin station & Evening Departure to Deharadun.
Day 3: Arrival Deharadun, drive to Sankri. (6400 ft) drive 8-9 hours.
Day 4: Sankri small acclimatize trek
Day 5: Sankri to Juda ka Taal (9000ft, 5 Kms trek)
Day 6: JudakaTaal to Kedarkantha Base Camp (11,200 FT, 4 Kms trek)
Day 7: Kedarkantha Base Camp – Kedarkantha (12,500 FT) – Hargaon (8,450 FT, 6 Kms trek)
Day 8: Hargaon –Sankri( 6Kms trek)
Day 9: Sankri to Dehradun (drive 8-9 hrs)
Day 10: Reach New Delhi / Nizamuddin station & Departure to Nashik, according to train.
Day 11: Arrival at Nashik. Vote of Thanks
Confirm your seat booking before 15th Dec 2022
DIFFICULTY: Easy-Moderate
AGE: 12 – 50 years (Students & Parents)
Day time: 8°C-15°C;
Night time: -5°C-3°C
Max Alt 12,500 Feet Trek Distance 23 Kms
*Fitness Required for Kedarkantha Trek*
The Kedarkantha Trek is an easy trek suitable for first time trekker with basic fitness
Instructions :-
Fees by Cash, DD in favour of Bhonsala Adventure Foundation, Nashik.
Fees will cover
• Accommodation, Nutritious Vegetarian Food (Sankri to Sankri)
• Guide Charges, Equipments & Training
• Transportation from Nashik to Nashik. (Nashik to Deharadun (Via-New Delhi / Nizamuddin station) & Return by Train Reservation – III AC, Deharadun to Sakri & Return by bus / Car – Non AC )
Note – Food expenses during travel will be borne by the participant.
Fitness Certificate of the candidate from Family physician / M.B.B.S or M.D doctor is essential for Admission.
Safety:-
Extensive & painstaking preparations have gone the planning of the trek routes to ensure participant's safety. However Bhonsala Adventure Foundation cannot be held responsible for any accident, illness and other such untoward incidences.
Cancellation:-
In Case you are unable to join the camp after paying the fees, you will get 50% refund provided your request is receives at least 15 days in advice from the date of your reporting. Any unforeseen event /Strike or natural calamity will not be considered as a cause of cancellation.
Rules &Regulation:
• Do not leave the camp site without permission of the group leader or Camp leader.
• Do not keep any weapons with you.
• Do not drink water / eat food items from unauthorized sources.
• While trekking do not enter into any personal property or damage any personal property.
• Do not use abusive or vulgar language with other participants and staff.
Note:- Trekking programme & routes are subjected to change without prior notice.
Please note that this is an environment friendly Trekking programme. Do not litter any wrapper or spoil the site in any way. In case you find any wrapper, plastic bag or anything left by anyone on the way, please carry the same with you for depositing at the camp.
EQUIPMENT AND CLOTHING REQUIRED:-
*Rucksack, *Cotton or Nylon Thermal Inner, *Trek pant & Shorts , *T-Shirts, *Full Pant, *Party Dress *Woolen Pullover Full Sleeves, *Raincoat, *Slippers, *Adequate undergarment, *Towel, *Socks, *Woolen monkey cap, *Bed sheet , *Torch with extra 2 Batteries, *Sunglasses, *Cold cream, *Sunscreen lotion, *Trekking / Sports Shoes, *Water Bottle, *Toilet Paper, *Personal Medicine, *Plastic bag to contain all the above plus a few spare one, *Note book & Pen.
For Details Please Contact- Tel: - 0253-2309618 Website: www.baf.bhonsala.in
Contact Persons: - Santosh Jagtap: -9881547280, Santosh Vable: - 9850996198